Working with the Log Export
The bottom half of the System Report includes the Log Export feature. This feature allows you to view and export Orchid Core VMS system logs into a compressed file or plain text. These logs contain advanced troubleshooting information and are useful when trying to diagnose issues with Orchid Core VMS.
Note: The Timeline Bar displays the time on the client machine while system reports and logs are based on the server time. If there is a discrepancy, click the Clock icon (next to the software name in the image below) to view the time gap.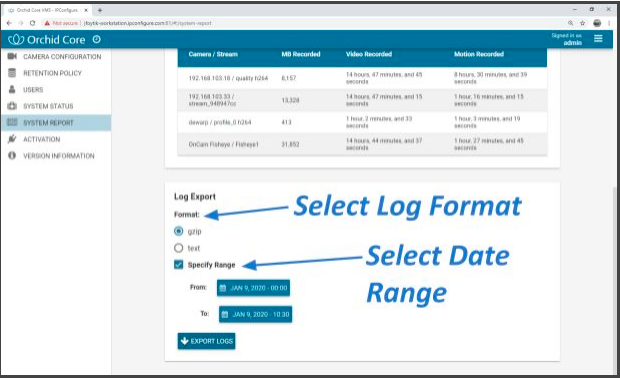 1. Select the format you wish to use for the log export:
a. gzip: This option will download the latest log from Orchid Core VMS into a compressed file, allowing it to be viewed on other computers. The gzip-compressed file can be extracted using the gunzip command on Linux or a utility such as 7-zip on Windows.
b. text: This option will display the log within the browser without downloading any files. This file is likely to be very large when a narrow date range is not specified.
2. To specify a date/time range for the log, mark the Specify Range checkbox. Then use the From and To buttons to select the start and end dates/times.
3. Once your selections are complete, click the Export Logs button.