Step 1 - Verify you have upgraded IPMI to version 2.0 available here
Step 2 - SteelFin Reef, Mako, and Whale servers ship with an upgraded graphics card installed.  This card is not compatible with the IPMI Console Redirect Mode and must be removed to leverage this feature.
Step 3 - At the time of installation of the graphics card a jumper change was required on the motherboard to disable the on-board VGA video adapter.  To reverse this first identify the motherboard jumper labled "JPG1" which is responsible for Onboard VIDEO ENABLE/DISABLE and then make the required pin position change.
Pin Positions:
PIN1-2 = Enable On-board Video (VGA adapter attached to motherboard, required for IPMI Consol Redirect Mode)
PIN2-3 = Disable (this is the default if the server is equipped an upgrade graphics card)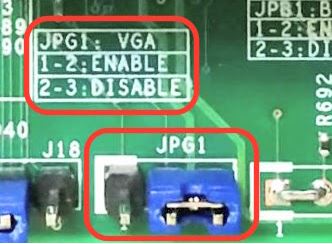 Full details on IPMI are available at Super Micro.