License plate results from IPConfigure eLPR cameras can be automatically included in ESM through the Devices section of ESM.
To create the camera in ESM, login to the admin section of ESM and click the Devices tab.
Right-click on the location you would like to add the camera to and click the Add Camera button. Enter a name for the camera and click the OK button.
The configuration page for the newly added camera will automatically load after a few seconds.
Set the Camera Application to Embedded LPR and select the model camera that eLPR is installed on in the Camera Type drop down menu.
Under the Live View settings, set the IP address to match the IP address for the camera. Ensure http is selected in the drop down above the IP address and enter the port used to the view the camera's web interface in the port field. This will be port 80 by default unless the camera is set to use an alternate port.
Note: If this port is not set correctly then ESM will not be able to automatically configure the camera to push license plate results back to ESM.
Set the Image Type to H264 or MJPEG and select the frame rate at which you want eLPR to read license plates.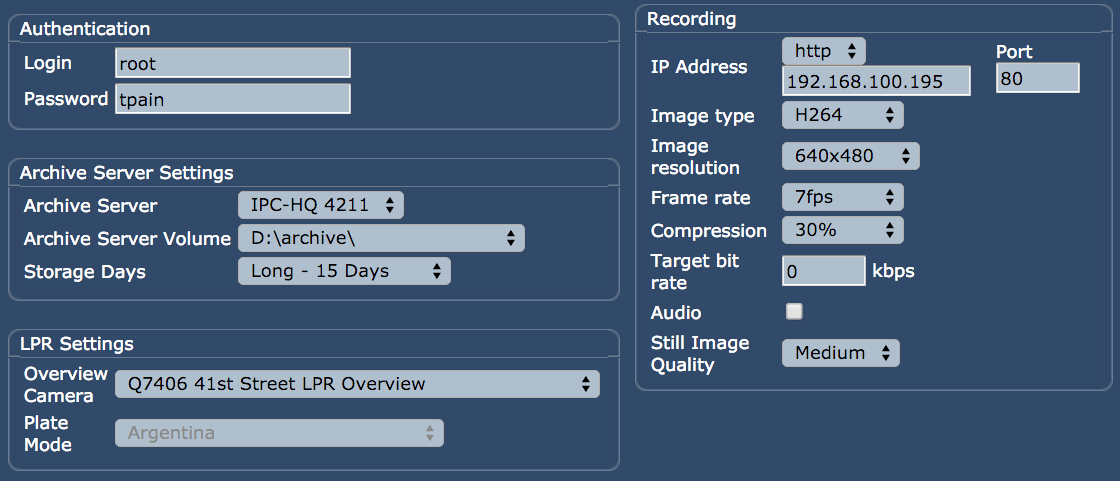 Update the recording settings to match the live view settings for the camera. The Compression, Target bit rate, and Still Image Quality can all set to their default values for both the live and recording settings.

Enter the username and password for the camera in the Authentication section. It will need to be an administrator user on the camera for ESM to configure the eLPR settings.
Under Archive Server Settings, select the Archive Server and Archive Server Volume you would like to record the eLPR plates to.
If there is an overview camera available next to the eLPR camera, select that in the Overview Camera drop down menu. Setting an overview camera will allow you to view the video of a vehicle as it goes by the license plate alongside an image of the plate detected by eLPR.
Ensure the Enabled check box is selected at the top of the camera settings page and then click the Apply button to save the settings.
The plate reads from the eLPR camera will now be available in the LPR tab of ESM. If you have any additional questions or issues when adding the camera, please submit a LPR Technical Support Request.