IMPORTANT: The information in this article is specific to Orchid version 1.12.7 or earlier. Equivalent instructions for Orchid versions 2.0.0 and above are available in the Orchid Core VMS Administrator Guide in the chapter "Advanced Topics: Low-bandwidth Mode vs. Plugin Mode".
When visiting Orchid for the first time in the browser, you will see a page saying FBGST required. FBGST is the name of the plugin used by Orchid to stream video. It is easily installed when visiting Orchid for the first time.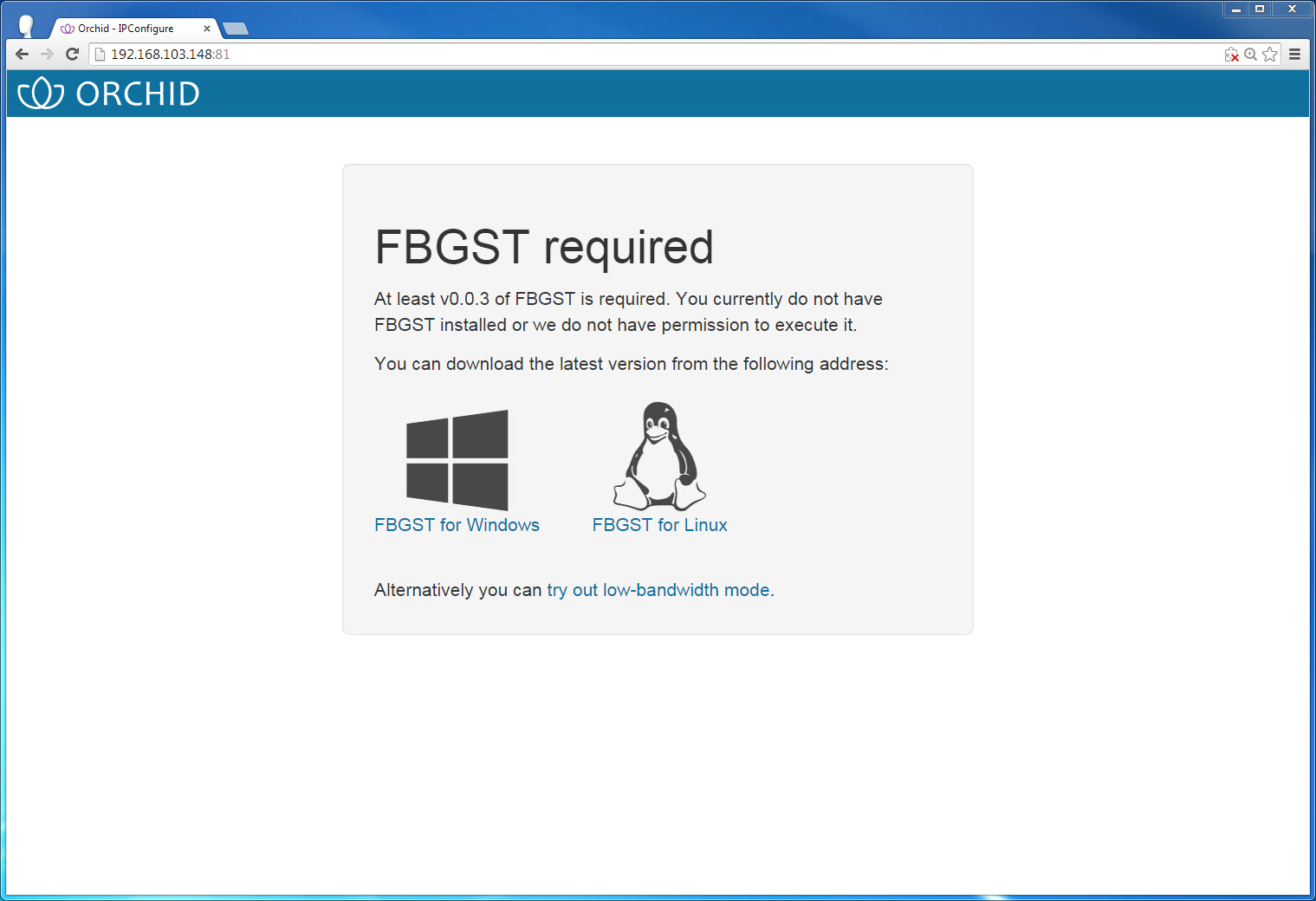 To install the plugin, click the "FBGST for Windows" link if you are using Windows, or the "FBGST for Linux" link if you are using Linux. After clicking the link, the browser will start downloading the installer package.
Note: When using Chrome, you may see a warning after downloading the file saying it is not commonly downloaded and could be dangerous. You can safely ignore this warning and choose to "Keep" the file.
After the file has finished downloading, launch the installer file just as you would any normal installation file. For reference on installing files, feel free to read our articles on installing Orchid in Windows and installing Orchid in Linux.
Windows Users: After running the FBGST installer, restart all browsers to ensure the plugin is loaded properly. If the plugin is working properly then you will see the Orchid login page.
If you are using Chrome version 42+, you will need to enable NPAPI plugins in Chrome's settings. You can do this by opening Chrome and typing chrome://flags/#enable-npapi
Click enable for "Enable NPAPI Mac, Windows and restart Chrome. The plugin should now be recognized by Chrome, but may still need to be allowed, as explained below.
Chrome and Firefox block the plugin by default and you must manually allow it to run. Click the warning in the browser (shown in screenshots below) to allow the plugin to run.

Warning in Chrome:

Warning in Firefox:

After allowing the plugin to run, the page will reload and the Orchid login screen will appear.
Linux Users: The Linux version of Chrome currently does not allow plugins to function. To view Orchid in Chrome on Linux, you will need to be using Chrome 33 or older. Alternatively, Firefox can be used successfully in Linux with the plugin.
If the Orchid login page is still not appearing after setting up the plugin and allowing it to run, there may be an issue with the browser that is preventing the plugin from functioning properly. You would want to try viewing Orchid in a different browser if possible.
However, low-bandwidth mode, which does not require the plugin, can be used instead by clicking the "try out low-bandwidth mode" link at the bottom of the plugin required message in Orchid.