ESM has a feature to mass update devices for the following items:
Live View: Image Type, Frame Rate, Compression
Recording: Image Type, Imagine Resolution, Frame Rate, Compression, Schedule
Motion Detection: Object Size, Sensitivity, History, Reset Motion Detection Grid
This feature can be found on the ESM admin interface on the Devices menu by right-clicking "Global Devices" on the top of the device tree and choosing the option for "Mass Update Devices". After selecting the cameras/devices and options you would like to mass update, click "Apply". The option box you selected to update will gray-out when update is complete.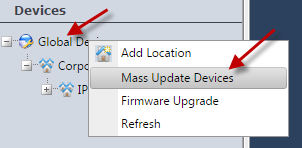 Please Note: Make sure all the devices selected are compatible with the option selected to update. (ie. Image Type, Imagine Resolution, Frame Rate, Compression)