Background
Traditionally, customers who need to record video with embedded timestamps are able to configure cameras and encoders to include this information. Recently (circa 2022), several prominent camera and encoder vendors have begun to supply devices that are not capable of embedding timestamps in video.
Solution
Beginning in version 22.12.2, Orchid Core VMS can embed timestamp information as a closed caption or subtitle track in recorded or exported video files. This timestamp information is directly written into the video files and may be viewed with standard players such as VLC or the Windows Movies & TV Player (included in Windows 11).
For example, when viewing video from Orchid Core VMS in VLC, these forensic timestamps may be enabled by navigating to Subtitle -> Sub Track in the VLC menu, or by using the hotkey "V".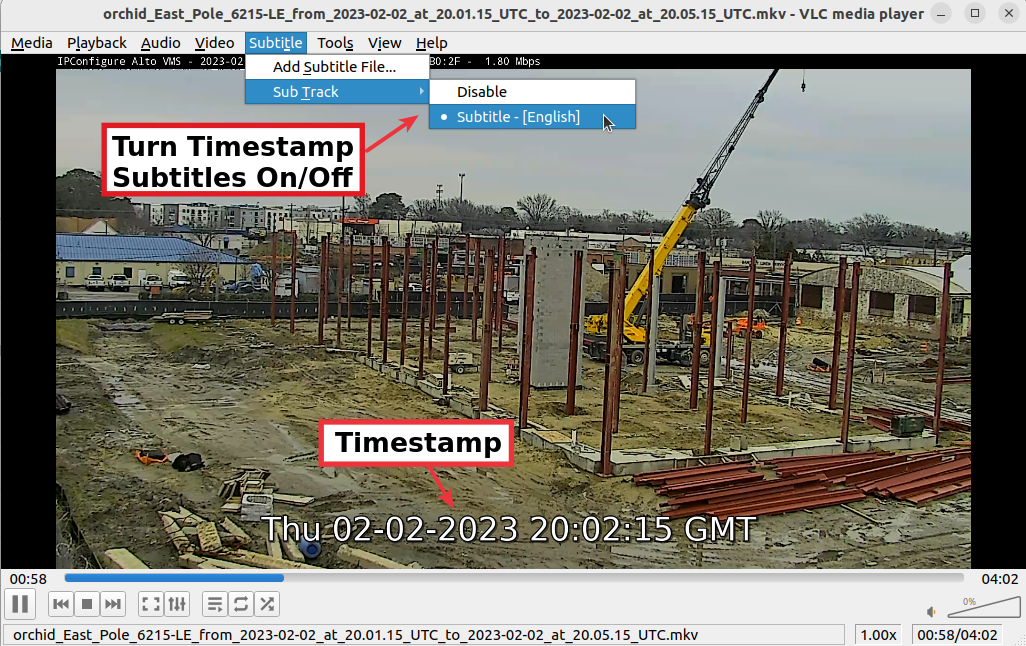 Enabling Forensic Timestamps
Enable Forensic Timestamps by setting the following value in the Orchid Core properties file, using either the Advanced Settings section of the Orchid Core administrator interface, or by editing the properties file directly (in either Windows or Linux) and restarting the Orchid Core service:
capture.forensic_timestamps: true