To create a Library item you must select the date and time you would normally select to view a video.
You can use the red and green diamonds to close in on the time frame and the calendar to select the date in question.

There is a Box under actions to the right of the timeline that is in between the view icon and the add to playlist plus icon.
After selecting the Library Icon you can give the video a name and it will be saved into the library.
To confirm the library item you can go to the library tab which it to the right of the Thumbnail tab on the left side of the screen above all the cameras and search button.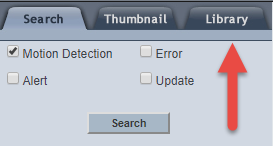 From there you can view and download the video.

To download as evidence you must click the view button and then download as evidence.